Подача статей





Ivanova A.P., Mezhueva L.V., Piskareva T.I., Gunko V.V., Bykov A.V.
DECOMPOSITION THE APPROACH TO RELIABILITY TECHNICAL SYSTEM [№ 10 ' 2011]
In article it is offered декомпозиционный the approach to research of reliability of technical systems in which basis elements of the system analysis lie. It allows to make a choice of priority directions by working out of reliable systems of mixing.
Ivanova A. P., Mezhueva L.V., Gunko V.V., Getmanova N.B., PiskarevaT.I.
ENGINEERING GEOMETRY IN THE DESIGN OF MIXERS [№ 10 ' 2010]
The authors carried out the complex of studies, which makes it possible to increase the qualitative output of ready-made production due to the optimization of the structural-geometric elements of the geometric simulation of the working surfaces of mixers.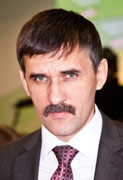 Editor-in-chief
Sergey Aleksandrovich
MIROSHNIKOV