Подача статей





Pavlidis V.D.
MATHEMATICAL EDUCATION OF THE REAL SCHOOLING IN RUSSIA (SECOND HALF OF THE 19 CENTURY) [№ 2 (app.1) ' 2005]
The author analyses actual and statistical data of the math education development in real gymnasiums and colleges of Russia. The reforms of the secondary education in 1864 and 1872, its results, its influence on the math educational level in real educational establishments are described in details. Gymnasium and college curriculum study revealed basic development tendencies of these educational establishments.
Pavlidis V.D.
THE REFORMS OF GENERAL EDUCATION AND THE MATHEMATICAL SECONDARY EDUCATION IN RUSSIA AT THE BEGINNING OF THE XX CENTURY [№ 2 ' 2005]

Pavlidis V.D.
REFORMS OF MATHEMATICAL EDUCATION IN RUSSIA IN THE FIRST PART OF XIX CENTURY [№ 12 ' 2004]
The results of passed reform in Russian educational system which was made in the first part of XIX century as from historical and pedagogical point of view as from methodical point of view were analyzed in this article. The author showed reasons, stages and peculiarities of school mathematical educational system forming in Russia. The content of gymnasian education was analyzed here; also the process of working up and formation of secondary education data was given a special attention. Strength and weaknesses of studying plans and programs of mathematics, which were accepted during reforms, were shown in this article too.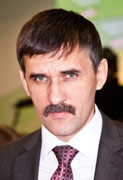 Editor-in-chief
Sergey Aleksandrovich
MIROSHNIKOV