Подача статей





Stryapkov A.V., Parshina I.N.
THE ROLE OF MOSCOW CHEMICAL SCHOOL ON THE DEVELOPMENT OF CHEMICAL EDUCATION IN ORENBURG REGION [№ 1 ' 2005]
The problems of development of industrial, chemical and technological complex in Orenburg region and the role of Moscow chemical school on the foundation of chemical education in Orenburg state university, are regarded in this article.
Stryapkov A.V., Parshina I.N., Kovalenko D.V.
VARIANTS OF FIRE AND EXPLOSIVE RISKS ON OIL CHEMICAL OBJECTS [№ 12 ' 2004]
Influence of mineral oil type, area of its flood, time of vaporation, temperature, wind speed on number of creating explosive steam-to-gas phase and magnitude of absolute energy potential of typical technological block - tank of type PBC-1000, was researched in this article. It was recommended to limit an area of possible flood of mineral oil till the size no more than 1500 m2.
Parshina I.N., Stryapkov A.V.
RESEARCHES OF PROCESS OF COPPER AND ZINC DESORPTION FROM CATIONIT КУ-2Х8 [№ 1 ' 2004]
Influence of a nature is investigated and concentration of stripping reagents on copper and zinc desorption from cationit КУ-2х8 in strategic and dynamic conditions. Advantages are shown of use of a solution of chloride of sodium in quality of desorbent at extraction of metals from cationit КУ-2х8, sated in process of ion-exchange polishing of quarry solutions of copper - zinc deposit.
Parshina I.N., Strjapkov A.V.
THE SORBATION OF IONS OF METALS BY ORGANIC CATIONS FROM RAB-OF-BANK SOLUTIONS [№ 5 ' 2003]
The principle opportunity of the sorbation clearing of ran-of-bank solutions of a deposit of copper-zinc ores from copper, zinc, iron, calcium and magnesium with the use of organic exchangers КU-2х8, Lewatite and КB-4 is shown. It is established, that the application of heavily acidic ionites (КU-2х8, Lewatite) allows to achieve a high degree of extraction of all metals without preliminary preparation of ran-of-bank waters.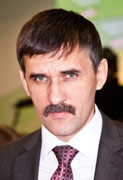 Editor-in-chief
Sergey Aleksandrovich
MIROSHNIKOV