Подача статей





Krivorotov V.V., Kalina A.V., Pahtusov A.V.
CREATION OF A MOTIVATION MECHANISM TO INCREMENT COMPANY COMPETITIVENESS [№ 13 ' 2011]
Understanding of the company competitiveness with a special accent on necessity of overall development of the constituents of the motivation mechanism that stimulates employees is presented within the frames of resource theory of company competitive advantages formation. The process of formation of the indicated mechanism is demonstrated and the interrelation of its implementation with the increase of a company competitiveness level is commented on.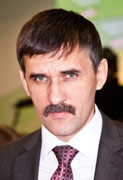 Editor-in-chief
Sergey Aleksandrovich
MIROSHNIKOV