Подача статей





Ovseyko V.P.
CHARITABLE ACTIVITIES OF THE RUSSIAN ORTHODOX CHURCH IN THE ORENBURG DIOCESE DURING THE WORLD WAR I [№ 5 ' 2012]
The article analyzes the main trends of charitable activities of the Russian Orthodox Church during the World War I on the territory of the Orenburg diocese. The author concludes that, despite the crisis in the life of the church in the early XX century the clergy willingly responded to the state call for help in difficult conditions for himself.
Ovseiko V.I.
COMPETITIVE STRUGGLE IN THE ORENBURG MARKET OF THE PRINTED MATTER OF THE END OF XIX CENTURY [№ 11 ' 2011]
In clause considered the poorly studied a question on struggle for a reader's audience between the state and private editions. As a material of research publications of the Orenburg newspapers of the end of XIX century when struggle for the reader became especially sharp have served and quite often got character of competitive war. The paper identified, analyzed examples and reasons of competition between the state "Turgay newspaper" and private "Orenburg leaf".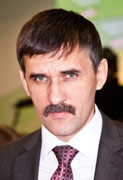 Editor-in-chief
Sergey Aleksandrovich
MIROSHNIKOV