Подача статей





Osepyan A.K.
SOCIOLOGICAL ANALYSIS OF INTERRELATION OF DIASPORA PROCESSES AND ETHICAL CONFLICT [№ 7 ' 2014]
This research work examines the issues that Armenian migrants or diasporants encounter abroad (in Russia) related with their ethnic status and ethnic identity; as well as how stereotypes toward Armenians are interpreted. In touches also the influence of ethnicity on the individual or group value — capabilities and social behavior, examining in what context the interaction of group with milieu is called forth with conception of ethnic "self'. The article aims to indicate how the cultural and traditional peculiarities of ethnic group is expressed in the behavior of its members, and from the other hand how the mentioned peculiarities are expressed in the interaction with different ethnic groups in the host country. In the long run, the paper is concluded with the description of possibilities of appearance of different types of conflicts (latent and manifest) in interactions among different ethnic groups.
Osepyan A.K.
CONCEPTS AND CHARACTERISTICS OF DIASPORA IN CLASSIC AND MODERN FORM [№ 7 ' 2013]
The paper analyzes the phenomenon of diaspora through the lens of the sociological outlook. Operationally defined and interpreted the concept of diaspora and transnational space. We present the key features of classic and contemporary diasporas. Diaspora are considered as one of the most organized varieties of transnational communities.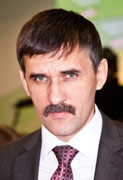 Editor-in-chief
Sergey Aleksandrovich
MIROSHNIKOV