Подача статей





Bolodurina M.P., Ogurtsova T.A.
OPTIMAL CONTROL AND SIMULATION OF INNOVATION DEVELOPMENT OF TELECOMMUNICATION BRANCH [№ 9 ' 2010]
The work offers dynamic model of enterprise behavior in the telecommunication field in the form of the system of differential equations with the delay. The parameters of the represented model are determined on the base of real data of the volume of user base and tariff policy of the operators of mobile connection. The problem of optimal control of the behavior of enterprises taking into account delay is numerically solved.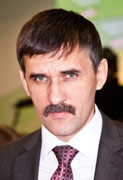 Editor-in-chief
Sergey Aleksandrovich
MIROSHNIKOV