Подача статей





Ogorodnikov P.I., Chirkova V.Yu., Guseva E.P., Bazarov M.K., Kryuchkova I.V.
EFFECTIVE INNOVATIVE POLICY — THE BASIS OF MODERNIZATION OF ECONOMY OF THE REGION AND THE COUNTRY [№ 8 ' 2014]
In article justification of need of creation of scientific and methodological tools for an objective assessment of a maturity of the region (enterprise) to investments is given. Having techniques are analyzed and the model developed by authors based on optimizing criteria which allows through an assessment of level of technical potential in size of a fondovooruzhennost is briefly described to estimate studied territorial object and to receive the maximum fund of accumulation.
Ogorodnikov P.I., Bazarov M.K., Kryuchkova I.V., Korovin Yu.I.
THE CONCEPT OF THE TECHNIQUE OF OPTIMIZATION OF INSTALLED POWER PER EMPLOYEE AT THE ENTERPRISES [№ 1 ' 2013]
Considered the concept of assessment of installed power per employee at the enterprises. The concept allows forecasting labor productivity at level of technical potential to use both a capital-labor ratio, and an installed power per employee indicator as correlation of these indicators.
Ogorodnikov P.I., Bazarov M.K., Matveeva O.B., Chirkova V.Yu.
OPTIMIZATION AS THE LEADING IDEA OF THE CONCEPT OF JUSTIFICATION OF THE INNOVATION POLICY OF THE ENTERPRISE [№ 13 ' 2012]
Realization of the government of the Russian Federation the program of modernization of the economy of the country is not possible without the active innovation policy. The proposed theoretical-methodological tools allows you to address to make investments without the risk of their non-return and determine the optimal structure of manufactured products. Upon completion of the research investigations this methodology will be presented in the form of a software product for enterprise managers to manage them effectively.
Ogorodnikov P.I., Usik V.V.
PREDICTION OF PRODUCTION AND YIELD OF GRAINS THROUGH REGRESSION MODELS [№ 13 ' 2011]
Agricultural production is the most complicated object from the point of view of modeling of industrial-technological processes. Complexity of modeling consists in likelihood character of the majority of the factors forming models. In article are presented регрессионные the models adequately describing studied process both allowing to predict manufacture and productivity of grain crops.
Ogorodnikov P.I., Usik V.V., Lizneva I.A.
EFFECTIVENESS OF AGRICULTURAL AIRCRAFT-CHEMICAL WORKS [№ 2 ' 2006]
At the present time it is practically impossible to get good harvest of grain-crops without using of chemical fertilizers, pesticides and herbicides. Bringing in of chemicalixation means with ground transport is problematic enough therefore aviation soil cultivation is the most important problem of modern agriculture. Condition and perspectives of aircraft-chemical works development in the Russian Federation and Orenbrug region is regarded in this article.
Ogorodnikov P.I.
DATAWARE OF INNOVATION PROCESSES IN REGIONAL ECONOMICS [№ 10 (app.1) ' 2005]
The author considers the notion of innovation process, its basic model, the stages of regional economics' development with the help of innovation model dataware and interconnection of innovations and investment.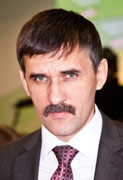 Editor-in-chief
Sergey Aleksandrovich
MIROSHNIKOV