Подача статей





Voropaev S.B. Novozhenin I.A.
NATURAL CONDITIONS AND CHARACTERISTICS OF FACTORS OF SOIL FORMATION OF SOUTHERN URAL [№ 10 ' 2013]
The article focuses on the features of the natural factors of soil formation and properties of the predominant soils of the Southern Urals, both in terms of the natural history of the body, and the basic means of production in agriculture.
Smirnih A.G., Novozhenin I.A., Prichozhai N.I., Primak O.V.
SOIL-CLIMATIC AND GEO-BOTANICAL ASPECTS OF GREEN BUILDING IN THE CENTRAL ORENBURG REGION [№ 6 ' 2012]
Data are presented for the prospects of the development of afforestation in the natural conditions of the Central part of the Ural steppe, based as on the earlier findings, and on the materials of their own research.
Shorina T.S., Misetov I.A., Novojenin I.A., Ermacova E.U.
ESTIMATION FITOTOCSICHNOSTI CHERNOSEMA OF SOUTHERN ORENBURG AREA IN CONDITIONS OF PETROLEUM POLLUTION [№ 12 ' 2011]
In clause the estimation fitotocsichnosti chernosema southern on various parameters is given: energy of germination and germination of seeds, length seedlings, phytomass. Dependence of growth seeds and development of plants from physical propertie ssoils, polluted by various concentration of petroleum also is considered(examined).
Roussanov A.M., Novozhenin I.A., Yurov S.A.
ENVIRONMENTAL MONITORING OF SOILS AS A CONSTITUENT PART OF MONITORING OF ORENBURG REGION LANDS [№ 12 ' 2006]
Methodic issues of organization of Orenburg Region lands monitoring as a constituent part of general environmental monitoring are being reviewed. Arguments for the use of performance of a set of measures on soils and region's soil cover monitoring within the limits of land monitoring are brought. Scientific and practical results of land and soil monitoring are stated, as well as certain directions of improvement of the region's territory monitoring service.
Rusanov A.M., Novozhenin I.A., Koval M.A., Klevtsov N.V., Prikhozhay N.I., Anilova L.V., Voropaev S.B.
TO THE QUESTION OF THE REGIONAL LAW "POLLUTION OF ORENBURG REGION SOILS" [№ 4 (app.1) ' 2006]

Rusanov A.M., Novozhenin I.A., Milyakova E.A., Tyurin A.N.
CONCEPTUAL, APPLIED AND PRACTICAL ASPECTS OF SOILS AND AGROLANDSCAPES PLOUGHING FITNESS THEORY. [№ 4 ' 2001]
The article provides the analysis of the ploughing effect on homeostasis of soil biogeocoenosis. The necessity of long-term ploughing field productivity and soil ecological functions in biosphere is quite obvious, hence the authors prove the necessity of agrulandscape differentiation according to the degree of plouqhinq fitness as the major factor of agricultural nature use optimization. The criteria of such division are shown. Regional soil and lands cape division into the plouqhinq fitness categories was carried out according to thesoil-economic conditions the Orenburg region territory.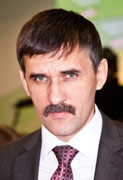 Editor-in-chief
Sergey Aleksandrovich
MIROSHNIKOV