Подача статей





Najmushina A.P., Samotaev A.A.
STRUCTUCAL FEATURES OF THYROID CANCER FUNHTSONALNYE CLINICALLY HEALTHY GIRLS 6-9 YEARS LIVING IN THE NORTHERN DISTRICT OF ORENBURG [№ 12 ' 2011]
In article use of the system approach is shown at a solution of a problem of early diagnostics diffuse not toxic craw at clinically healthy girls of 6-9 years of Northern district of Orenburg. It is revealed that the most important elements of system of indicators of a thyroid gland are "thyroid gland ultrasonic" and "blood joint-stock company" children.
Samotaev A.A., Najmushina A.P.
SUTOCHYE CHANGES OF MORPHOMETRIC CHARACTERISTICS OF THE FOREST RED ANTS IN VARIOUS HABITATS [№ 12 ' 2011]
In article use morphometric ha-rakteristik the Ant red wood is shown at carrying out of an ecological monito-ring of the anthropogenous changed ecosystems throughout days. It is shown that the most tolerant morphometric characteristics nase-komogo had appeared: average legs, distance between short moustaches; high chuvst-vitelnostju possessed: weight of a body, length of short moustaches, width головогруди, length of 1st pair legs.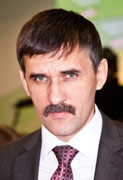 Editor-in-chief
Sergey Aleksandrovich
MIROSHNIKOV