Подача статей





Kaats M. E, Nasyrov R.R.
THE BODIES IMPLEMENTING OPERATIVE DETECTION ACTIVITY AS THE SUBJECTS OF NATIONAL CRIMINAL PROCEDURE [№ 3 ' 2013]
The article considers the questions of the procedural status of the operative detection bodies in the system of the acting Criminal Procedure Legislation from the position of their relating to such subject of the criminal legal proceeding as interrogation. The separate moments of the problematic-terminological definition "interrogation bodies" and "the bodies implementing operative detection activity" have been analyzed. It has been also formulated the necessity of defining the separate procedural status of the operative detection bodies in the system of the national Criminal Procedure.
Kaats M. E, Nasyrov R.R.
SEPARATE POSITIONS OF THE PROCESSUAL STATUS OF THE BODIES WHICH CARRY OUT OPERATIVE-DETECTIVE ACTIVITY IN THE SYSTEM OF THE RUSSIAN CRIMINAL PROCEDURE [№ 3 ' 2012]
The article considers questions of processual position of operative-detective bodies in the system of the operating criminal-processual legislation. Several moments of realization of processual functions of bringing a criminal action and performing of urgent investigatory actions by operative staff, as inquiry bodies, are analyzed. The position concerning possibility and reasonability of operative bodies is formulated by the similar competence.
Bogodukhov S.I., Gaibova T.A., Nasyrov Sh.G., Severyukhina N.A.
MULTI-OBJECTIVE OPTIMIZATION OF POWDER STEEL [№ 9 ' 2006]
ES is a result of taken analysis and serves one of possibilities of its direct practical using. The results of work confirms that ES using allows time reducing at decisions taking at IPM production giving possibility to select the composition of base mixtures quickly and exactly to receive necessary result.
T.M. Zubkova, A.Sh. Nasyrov
THE CHARACTER'S REGISTRATION OF THE MATERIAL MOVEMENT IN THE SHNEK CANAL IN MATH'S MODELING OF VEGETABLE RAW MATERIAL'S EXTRUDICTION. [№ 1 ' 2003]
The vegetable raw material process of extrudiction widely uses in food industry and in feed preparation. Autogenous regime which is characterized this process in the case of intensive displacement realizes necessary technological influence on the manufacturing object. Transformations, which are taken place in the material, call the change in it's reological properties. It can be considerable in the length of shnek. This fact complicates the math's description of process. In this work there is an attempt to receive the dependence. It allows to calculate approximatly the tension's distribution in length shnek. On the base of it we can do the calculation of the complex parameters of the effect process extrudiction.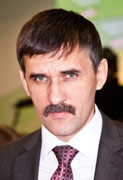 Editor-in-chief
Sergey Aleksandrovich
MIROSHNIKOV