Подача статей





Nagumanova N.G.
SOIL INVERTEBRATES IN HYDROLOGICAL LINE OF BUZULUK PINE FOREST [№ 5 ' 2006]
Changes of animal population structure on catena oriented along divide slope are considered in this article. Local communities divided at their structure and accumulated elements typical for neighbor natural zones are formed on the base of regional fauna on different positions of catena. They disappear on transit positions of catena and representatives of more Southern step groups are appeared.
Nagumanova N.G.
INFLUENCE OF HYDROTHERMIC SOIL CONDITIONS ON INVERTEBRATES COMPLEXES OF BUZULUK PINE FOREST [№ 4 (app.1) ' 2006]

Nagumanova N.G., Ni G.V.
SPATIAL VARIETY OF MESOFAUNA IN STEPPE ZAURALYE [№ 10 ' 2005]
The article is devoted to studying of specific structure, number and spatial structure of distribution mezofauna of various types of landscapes in steppe Zauralye. It is established, that poverty of specific structure and small number of mesopedobionts is determined by extreme conditions of existence: short duration of vegetative period, sharp differences of a hydrothermal mode in the beginning of vegetation and deficiency of a moisture in second half of summer and adverse properties of soils (salinity, alkaline reaction, compaction etc.).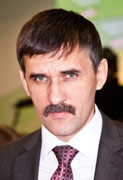 Editor-in-chief
Sergey Aleksandrovich
MIROSHNIKOV