Подача статей





Kanyukov V.N., Kagan I.I., Trubina O.M., Myasnikova E.A.
PECULIARITIES OF MORPHOLOGICAL STRUCTURE AND OPPORTUNITIES OF SURGICAL CORRECTION OF THE EYE FISSURE SHAPE AND PARAMETERS (LITERATURE VIEW) [№ 3 ' 2014]
Canthus plastic is still understudied direction. Normal topography of the eye fissure with anatomical marking of the upper and lower eyelid is the basis for determination of eyelids pathology and points out the indicates the technique of surgical intervention. The proposed method of eye fissure size increasing — partial, measured constant canthotomy with local plasty — keeps uninjured conjunctive, providing optimum wound adaptation and reducing the risk of postoperative complications.
Petukhova T.P., Myasnikova T.I.
PRACTICE-ORIENTED VOCATIONAL TRAINING OF EXPERTS IN GERMANY [№ 12 ' 2013]
The main aspects of the practice-oriented vocational training of experts in Germany are considered in the article. The dual system of vocational training, the participation of Chambers of Commerce and Industry of Germany lands in the course of training are represented in details, legal and regulatory framework of educational activity and the afforded grounds for realization of the academic mobility are described.
Myasnikova T.I.
COMPARATIVE ANALYSIS OF THE MEDIA PREFERENCES OF RUSSIAN AND GERMAN STUDENTS: AXIOLOGICAL FORESHORTENING [№ 10 ' 2010]
The author examined the media preferences of young people as one of the indices of value orientations. The comparative analysis of the media preferences of German and Russian students gives grounds for the development of the pedagogical conditions for the development of media competence of the Russian students of university. The represented diagnostic study made it possible to designate the axiological characteristics of media space.
Brezhnav A.Yu., Baranov V.I., Myasnikova T.A.
INTERACTION OF PSEUDOEXFOLIATIVE SYNDROME AND EXTRAOCULAR PATHOLOGY [№ 12 ' 2007]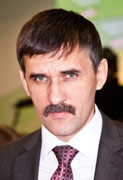 Editor-in-chief
Sergey Aleksandrovich
MIROSHNIKOV