Подача статей





Milanovskiy E.Yu., Shein E.V., Rusanov A.M., Tygai Z. N., Il'in L.I., Zinchenko S.I., Fomin D.S., Bykova G.S.
SPATIAL DISTRIBUTION OF THE ORGANIC MATTER CONTENT IN THE SOIL IN THE CENTRAL CHERNOZEM AGROLANDSCAPES [№ 6 ' 2015]
The study of the organic carbon and CaCO3 distribution of in the 80 m long transect crossing the field of agriculture and forest belt characteristic of the age showed significant differences in the distribution of organic and mineral carbon profiles in chernozems under the arable land and in the vicinity of the forest belt. This is due to a dominant role in the formation of hydrothermal conditions of reserves and the content of organic matter in the chernozem and points to the importance of assessing the physical conditions that lead to the formation conditions of accumulation of organic and inorganic carbon in soils, determining the conditions for the functioning of soil biota in steppe landscapes.
Rusanov A.M., Shein E.V., Milanovskiy E.Yu., Lazarev V.I., Tygai Z.N., Fomin D.S., Il'in L.I., Zinchenko S.I., Bykova G.S., Uкenov B.S.
FEATURES OF MIGRATION PROCESSES IN THE STEPPE LANDSCAPES SOIL UNDER THE INFLUENCE OF FOREST SHELTER BELTS [№ 6 ' 2015]
The study of the influence of forests in the steppe zone on the soil cover complexity formation is carried out by investigating the distribution of moisture and carbon organic matter and carbonates in the transect consisting of chernozems, underneath the forest shelter belts and under agricultural lands. It is primarily manifested through the formation of special hydrothermal conditions, arising under the forest belt, and entails the formation of stable soil properties such as organic carbon content.
Shein E.V., Milanovsky E.Yu., Khaydapova D.D., Bykova G.S., Yudina A.A., Chestnova V.V., Fomin D.S., Klyueva V.V.
MODERN INTRUMENTAL RESEARCH METHODS OF SOIL GRANULOMETRIC COMPOSITION, RHEOLOGICAL CHRACTERICTICS AND PROPERTIES OF SOIL OF SOLID PHASE SURFACE STUDIES [№ 6 ' 2015]
In soil science new tool measurements of distribution of particles by the sizes (laser diffraction), a contact corner of wetting, rheological characteristics, etc. get a wide circulation. Are considered given the corresponding parameters of the soil received by means of the modern equipment, results of researches are compared to data, obtained by means of classical methods. New tools and methods demand methodical works on delimitation of their applicability, optimum ranges, conditions of measurement and comparison with traditional methods of the soil. New devices the measuring particle size distribution (a laser difraktometriya), a contact corner of wetting, rheological characteristics, etc. with use of other methodical approaches find a wide circulation in soil science. Data on the corresponding soil parameters received on the new equipment, their comparison with the received classical methods are considered. New devices and methods demand big methodical work on establishment and identification of limits of their applicability, optimum ranges, conditions of measurements and their comparison with traditional soil methods.
Sakunkonchak T., Milanovsky E.Yu. Khaidapova D.D.
CHANGES OF SOME PHYSICAL FEATURES OF SOD-PODZOL SOILS AT LONG-TERM AGRONOMICAL EXPERIENCE [№ 6 ' 2009]

Milanovsky E.Y., Shein E.V., Rusanov A.M., Zasypkina D.I., Nikolaeva E.I., Anilova L.V.
SOIL STRUCTURE AND ORGANIC SUBSTANCE OF THE CHARACTERISTIC FORE-URAL CHERNOZEM OF THE WOODS AND LONG-TERM ARABLE LANDS [№ 2 ' 2005]
The authors carried out a comparative analysis of the characteristic Fore-Ural chernozem of the woods and long-term arable lands. They found out that in conjunction with low soil density, high indexes of the soil structure watertightness and soil permeability are stipulated by the humus substances of the hydrophobic fraction dominating in composition. This index of hydrophobic and hydrophilic fraction correlation can be used in the soil and land monitoring system.
Rusanov A.M., Malinovsky E.Yu., Shein E.V., Zasypkina D.I., Demchenko E.V.
ANTROPOGENIC EVOLUTION OF SOIL OF BOROVSKY IRRIGATIVE SYSTEM [№ 1 ' 2005]
Peeled solonetz and meadow-chernozem, deeply salt soil, occupied different positions in mesorelief , are revealed on the territory excluded irrgation of Borovsky irrigative system. Peeled solonetz is situated in comparative decline and, in comparison with meadow-chernozem soil, is greatly salted on the surface, also it is characterized with high content of natrium ion in soil absorbent complex, residuality and low permeability.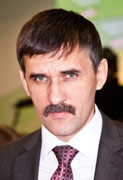 Editor-in-chief
Sergey Aleksandrovich
MIROSHNIKOV