Подача статей





A.S. Kostomarov, M.V. Moguchev, A.Ya. Mikitchenko
SENSITIVE ELEMENTS OF INVERSE CONNECTIONS FOR ELECTRIC DRIVE [№ 3 ' 2001]
This article deals with the construction of sensitive elements for electric current and voltage of the basis of Holl's effect. The sensitive element of electromagnetic moment for asynchronous machine was constructed. The article gives structural schemes and output characteristics of sensitive elements.
Ej. L. Grekov, A. Aj. Mikitchenko, V. E. Sorokin
THE STRUCTURAL ANALYSIS OF ELECTRIC DRIVE`S CONTROL, WHICH IS DONE ACCORDING TO THE SYSTEM - THE DIRECT FREQUENCY CONVERTER — THE ASYNCHRONOUS ENGINE (DFC-AE). [№ 2 ' 2001]
Different structural systems of control by means of the direct frequency converter are analyzed. The researches are carried out on the basis of the results of physical modeling. The regulators and the structural solutions are examined, which provide the stable work of the drive of the higher yielding frequencies.
A.Ya. Mikitchenko
WIND ENERGY APPLICATION IN ORENBURG REGION. [№ 3 ' 2000]
Constant increase of energy rates points out the effectiveness of non-traditional sources of energy. The article deals with the possibility of electric energy production using wind-driven electric power stations in Orenburg region. The author proves the possibility of 50 kw electric power station installation working parallel to optimal control mains which provides max power efficiency within different wind speed.
Mikitchenko A.J.
ELABORATION OF FREQUENTLY MANAGED ELECTRICAL DRIVE ON THE NPCH-AD SYSTEM FOR MINING INDUSTRY MASHINES. [№ 3 ' 1999]
This paper is devoted to the industrial science connections of the Orenburg State University in the field of practical Electrical Drive of Mining Mashines. Also to the analysis of technical expedience in the use of different drtguent types in the asynchronic Electrical Drive vith brake diet, and to the comparanve analysis of the example of dreguently-regulated Electrical Drive for excavatar EKA-81.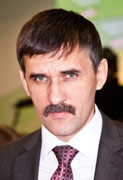 Editor-in-chief
Sergey Aleksandrovich
MIROSHNIKOV