Подача статей





Mikhashchenko A.L.
TEACHING AT COSSACK SCHOOLS OF ORENBURG PROVINCE [№ 1 ' 2007]
The questions concerned with quality of teachers' staff and their educational-professional level are regarded in this article. The information about remuneration of labor of youth's tutors, who have constant financial difficulties, is given here.
Mikhaschenko A.L.
EDUCAITON DEVELOPMENT IN THE VILLAGES OF THE ORENBURG COSSACK FORCES [№ 6 ' 2004]
The questions of the Cossack schools' origin and its development in the southern Zauralje are considered in the article. They are chronology, educational and pedagogical work state, the description of teaches' professional and personal features. In the article one can find information about the first and the only village gymnasia in the Cossack village of the province in the southern Urals.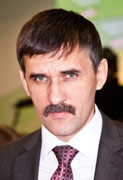 Editor-in-chief
Sergey Aleksandrovich
MIROSHNIKOV