Подача статей





Savin E.Z., Merezhko O.E., Mursalimova G.R.
BEHAVIOR OF PEARS IN A DIFFERENT ROOTSTOCKS STEPPE AREAS SOUTH URAL [№ 6 ' 2013]
The paper summarizes the results of 10 years of testing seed stocks, combined with pear varieties and Krasnobokaya Uralochka. Seeds harvested in different regions of Russia. The estimation of plantings in the garden as the trees, the degree podmerzaniya after a harsh winter 2005/06. Defined harvest for years, given the parameters of the tree — height, crown diameter, the diameter of trunk.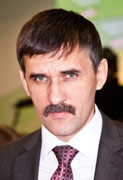 Editor-in-chief
Sergey Aleksandrovich
MIROSHNIKOV