Подача статей





Ivanova A.P., Safiullina L.M., Mansurova G.R., Petukhova A.P., Sukhanova N.V., Zakirova M.B., Muratova K.R.
THE FIRST INFORMATION ABOUT THE SPECIES COMPOSITION OF SOIL ALGAE AND CYANOBACTERIA FROM THE MURTYKTY FIELD DEPOSIT OF "BASHKIR GOLD MINING COMPANY" (UCHALINSKII DISTRICT, REPUBLIC OF BASHKORTOSTAN) [№ 10 ' 2015]
The species composition of soil algae and cyanobacteria from the Murktykty field deposit (the Uchalinsky region, the Republic of Bashkortostan) was studied. There were found 38 species and intraspecific taxons belonging to 5 divisions of them: Chlorophyta — 53 % (20 taxa), Cyanoprokaryota — 26 % (10 taxa), Bacillariophyta — 8 % (3 taxa), Ochrophyta — 8 % (3 taxa), Charophyta — 5 % (2 taxa). The taxonomic and ecological structures of algae flora were considered. The leading taxons and the most often found species were revealed. The dominant species: division of Chlorophyta — Chlorella vulgaris Beijerinck, Bracteacoccus minor (Chodat) Petrova, division of Cyanoprokaryota — Leptolyngbya foveolarum (Rabenhorst ex Gomont) of Anagnostidis et Komбrek and Trichocoleus cf. hospitus (Hahsgirg ex Gomont) of Anagnostidis. Divisions: Bacillariophyta, Ochrophyta and Charophyta were characterized by a low specific diversity. Hantzschia amphioxys (Ehrenberg) of Grunow in Cleve & Grunow had the highest incidence in the samples from the field from them. The analysis of life forms in decreasing order of number of the species defined the following range of ecobiomorphs: Ch17P9X4B3H3N1C1 with prevalence of the coccoid algae — ubiquistic relating to the Ch-form and the xerothytic of representatives of the P-form. The analysis of percentage ratio of the identified species of divisions from the territory of the field was carried out. The greatest specific variety was observed in the test № 6 (control), the lowest was revealed in the test № 5 (boulders of the old dump). Floristic similarity of samples was analyzed by applying Serensena-Czekanovskii coefficient which showed lower level of similarity taxonomic composition of floras. High value of coefficient was in the tests № 1 and 3 (50 %). Low value (9 %) was between test №4 with other tests.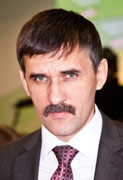 Editor-in-chief
Sergey Aleksandrovich
MIROSHNIKOV