Подача статей





Makeeva E.N.
REGULARITIES MODELING OF SPECIAL DEVELOPMENT OF REGIONAL ECONOMY [№ 2 ' 2009]
This article is devoted to the studying of peculiarities of special development of regional economy. Different approaches for data analysis of transformations (fractal, correlated-regressive and others), allowing studying without bias processes happened in the region, are given in this article.
Korabeinikov I.N., Kozlov G.A., Speshilov S.M., Makeeva E.N.
TERRITORIAL PRECONDITIONS OF INNOVATION DEVELOPMENT OF ORENBURG REGION'S ECONOMY [№ 1 ' 2008]
This article is devoted to the substantiation of territorial preconditions and priorities of innovation development of Orenburg region's economy. Methodology of appraisal and forming of priorities of production and social-economic character of effective regional development is presented in this article. Also the complex analysis of potentials and risks of innovations' introduction at industrial branches is given in this article.
Kutukova I.M., Alborova O.V., Makeeva E.N.
SUBSTANTIATION OF NEW FORMS OF AGRICULTURAL GOODS PRODUCERS' INFORMATION SUPPORT [№ 10 (app.1) ' 2005]
The information support technology of science intensive products is considered in the article. Basic tendencies and strategies of these technologies' development in agriculture of today are marked out. The approach of new information technologies introduction into the agricultural production system is proposed.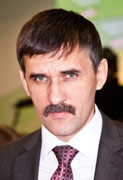 Editor-in-chief
Sergey Aleksandrovich
MIROSHNIKOV