Подача статей





Chernova Е.N., Lysenko Е.V.
THE REGULARITY OF TRACE ELEMENTS TRANSFER OF THE FOOD CHAIN PLANKTON — MOLLUSCS [№ 10 ' 2016]
The microelement concentrations (Pb, Zn, Cd, Cu) were studied in organisms of a trophic chain "plankton — mollusks (filter feeders)" from the lagoon lakes of the coast of the Sea of Japan comparing to published data. It was shown that microelements distribution on trophic chain "producer — first level consumer" depends from the specific surface area, microelement concentration and suspended organic matter in water and food, the form of existence an element in water. Microelements do not have biological magnification through the food chain plankton — filter feeders in the lagoon lakes from the coast of the Sea of Japan: Pb content is reduced, which is associated with a decrease of the specific surface area of consumers and probably with the predominant suspended form of the element in the water. The concentrations of Zn, Cu and Cd remain practically unchanged despite the reduction of the specific surface area. It is connected with the high rate of consumer's filtration, which is provided by low organic carbon and low heavy metals concentrations in the water. The concentrations of Pb, Cu and Cd in consumers-filter feeders from reservoirs contaminated by metals and organic matter can be increased, despite a decline of the consumers specific surface area and lower filtration rate due to feeding of the components with different original content of microelements.
Karpov D.N., Lysenko T.M., Yuritsyna N.A.
HALOPHYTE VEGETATION OF DEPRESSION ON TENIZ LAKE(TURGAYSKOE PLATEAU) [№ 6 ' 2004]
Halophyte superorganisms discovered and described by means of J. Brown-Blanke's method on Teniz lake (western Turgayskoe plateau) in 2000 are considered in the article. Their characteristic and ecotope description are cited. Two of the associations are cited for the first time - Artemisio pauciflorae-Kalidietum foliati ass. nov. and Artemisio abrotanae-Glycyrrhizetum glabrae ass. nov.
Karpov D.N., Lysenko T.M., Uritcina N.A.
NEW FACTS ABOUT COMMUNITIES OF UNION FESTUCO - LIMONION GMELINII MIRKIN IN GLOUB ET V. SOLOMAKHA 1988 IN SOUTH URAL AND CONTIGUOUS TERRITORIES. [№ 5 ' 2004]
New vegetative communities of union Festuco - limonion gmelinii Mirkin in Gloub et V. Solomakha 1988 - 3 associations and 3 subassociation - singled out on the basis of usage of principals of trends of Zh. Braun-Blanke in South Ural and contiguous territories. Key words: halophyte communities, Festuco - Puccinellietea Soy 1968, Festuco - Limonion gemelinii Mirkin in Golub et V. Solomakha 1988, South Ural.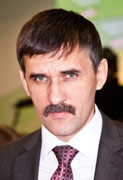 Editor-in-chief
Sergey Aleksandrovich
MIROSHNIKOV