Подача статей





Lykov A.V.
TO THE PROBLEM OF SOCIAL-ECONOMIC STRATIFICATION OF THE ORENBURG REGION [№ 7 ' 2013]
The article is devoted to defining the profile of the socio-economic stratification of the Orenburg region. In Orenburg layer size more poor, and the depth of the tangible bundle less than in Russia as a whole. The main means of overcoming excessive inequality should be an innovative economy.
Trofimova G.P., Lykov A.A.
SOCIAL PLURALISM AS METHODOLOGICAL PRINCIPLE OF CREATION OF THE CONFESSIONAL PANORAMA OF THE ORENBURG REGION [№ 5 ' 2013]
The article deals with the problem of social pluralism as a reflection of a new way of organizing society. Analyzes the concept of "social pluralism" and the main approaches to the interpretation, defined as the value of its methodological foundations for the study of cultural and religious backgrounds of the region. Are the main characteristics of religious paintings of the Orenburg region.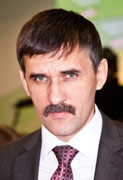 Editor-in-chief
Sergey Aleksandrovich
MIROSHNIKOV