Подача статей





Litovchenko О.G., Nifontova О.L.
SOME PARAMETERS OF THE CARDIOVASCULAR SYSTEM IN NATIVES OF THE MIDDLE OB RIVER REGION WITH THEIR AGE OF 7–20 [№ 1 ' 2010]
It was shown that hemodynamic characteristics and parameters for the heart rhythm in residents of Surgut, who were born and reside in hypocomfortable climatic and geographic conditions of the Middle Ob River region, had regional characteristics changing in line with overall biological patterns i.e. increasing with the age of parasympathetic influences on the heart activity.
Litovchenko O.G., Soloviev V.S.
VEGETATIVE REGULATION OF HEART RATE OF NATIVES OF MIDDLE PRE-OB, 7 – 20 YEARS OLD, ACCORDING TO DATA OF VARIATIONAL PULSOMETRY [№ 9 ' 2008]
The state of vegetative regulation of heart rate of people born in Surgut and aged 7 – 20 gas been studied. It is shown that chronotropic function of the examined hearts is clearly influenced by sympathetic link of regulation, which witnesses tension of adaptation mechanisms of relatively healthy schoolboys and schoolgirls and students, who were born and are living within climatic-and-geographic conditions of Middle Pre-Ob.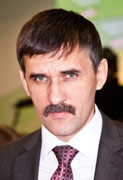 Editor-in-chief
Sergey Aleksandrovich
MIROSHNIKOV