Подача статей





Lepilina I.N., Safaraliev I.A., Konopleva I.V.
THE DISTRIBUTION AND STRUCTURE OF STURGEONS IN THE CASPIAN SEA AND THE STATE OF THEIR MESONEPHROS [№ 5 ' 2011]
The paper shows the distribution of sturgeon in the Caspian Sea in different seasons. On the light-optical level we studied morphological and functional state of sturgeon mesonephros. The study revealed various changes in the elements of nephrons in fish mesonephros.
Lepilina I.N.
MORPHOLOGICAL STRUCTURE OF PERIPHERIC BLOOD OF STURGEON PRELARVA [№ 4 ' 2006]
The structure of peripheric blood on the early stages of sturgeon fishes ontogenesis, determined at the period of descent from natural places of spawning is offered in this work. It is shown that blast forms are predominated in peripheric blood on the early stages of sturgeon fishes development. The first mature forms of erythrocytes and lymphocytes appear at 39-40 stages of development.
Lepilina I.N.
CONDITION OF STURGEON MESONEPHROS IN MODERN ECOLOGICAL CONDITIONS [№ 12 ' 2005]
Morphofunctional condition of sturgeon mesonephros was researched on the light-optic level. Different changes in nephrons elements of fish trunk kidney were discovered in this article. Albuminous masses gatherings in convoluted tubule lumen were marked here, also parenchymatous degeneration, edema of tubules walls, focal hemorrhage around them, gatherings of hemosiderin as consequences of hemorrhage were revealed in epithelium. Presence of parenchymatous degeneration pigment and features of tubules epithelium is evidence possibly of nephrolithiasis presence. Pathological changes of mesonephros elements changes are responses on negative influence of environment.
Lepilina I.N.
VIOLATIONS OF STURGEON FORELARVAE AT ARTIFICIAL REPRODUCTION [№ 12 ' 2004]
Description of different types of morphological violations of beluga and sturgeon forelarvae and larvae, grew on production and experimental base "BIOS" in Astrakhan region, is put in this article. Defects of yolk sac, microcephalia, different curves of chorda along the whole body are diagnosed more often here. Deviation in development of digestive apparatus (lack of forming of stomachal, intestinal parts) leads to death of sturgeon forelarvae. At the same time larvae period of development is characterized lesser variety of anomalies in comparison with forelarvae period.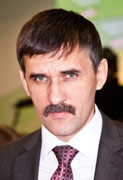 Editor-in-chief
Sergey Aleksandrovich
MIROSHNIKOV