Подача статей





Kuzina E.V., Davletshin T.K., Silishchev N.N., Loginov O.N.
BIOLOGICAL PROTECTION OF CUCUMBERS AND TOMATOES OF PROTECTED SOIL FROM ROOT ROT [№ 12 ' 2011]
The effectiveness of a biological product Elena, Zh on cucumbers and tomatoes of protected soil is studied in Astrakhan region. It is shown that the biological product is active against root rot pathogens of greenhouse plants (biological efficiency to 73.08%). Growth stimulant drug effects on plant performance and confirmed by biometric data on the yield (yield increase compared to control up to 40.0%).
Kuzin D.A.
POLITICS OF QUALITATIVE ECONOMIC GROWTH AND ITS CONSEQUENCES [№ 5 ' 2009]
The analysis of trends of qualitative economic growth politics is conducted in this article. The great attention is given to economic trend, which includes two compound blocks: factorial and structural. In structure of factors of economic growth the great attention is given to innovation factor. Also in this article the consequences of qualitative economic growth are revealed and the measures of economic politics stimulated and supported economic growth, are suggested here.
Kuzin D.A.
INNOVATION ELEMENT OF ECONOMIC GROWTH [№ 4 ' 2009]
The problem of economic growth due to innovations is regarded in this article, also the necessity of conditions forming in the region for innovation development is shown, and the experience of innovation introduction on regional enterprises is summarized here. The author suggests working out the program of innovation development of the region with accounting financing of innovation processes from three sources.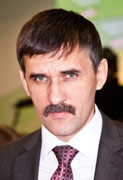 Editor-in-chief
Sergey Aleksandrovich
MIROSHNIKOV