Подача статей





Kurmeeva N.K.
MODEL OF EXTRACURRICULAR MUSICAL AESTHETIC EDUCATION OF THE STUDENT OF THE PEDAGOGICAL COLLEGE [№ 12 ' 2013]
The article presents a structural and functional model of extracurricular musical and aesthetic education of the student of the Teacher-Training College. There are structural components of the model, including the approaches, principles, goals and objectives, resources, teaching conditions, the components of a productive unit.
Kurmeeva N.K.
EXTRACURRICULAR FORMS OF MUSICAL AND AESTHETIC EDUCATION: TO THE HISTORY OF THE QUESTION [№ 7 ' 2013]
In this article, the notion of extracurricular musical aesthetic education is defined, the origins of extracurricular forms of musical and aesthetic education in Russia in the second half of the XIX — early XX century are analyzed. The appeal to the musical educational activity of A.N. Serov, A. G. Rubinstein, N.F. Findeyzen reveals the form of the musical lecture as a means of musical and aesthetic education of the masses.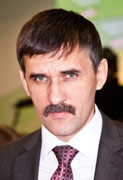 Editor-in-chief
Sergey Aleksandrovich
MIROSHNIKOV