Подача статей





Doga A.V., Kachalina G.F., Gorshkov I.M., Kuranova O.I.
PROSPECTS OF MICROPULSE LASER IMPACT AT MACULAR EDEMA AFTER SURGICAL REMOVAL OF EPIRETINAL MEMBRANES [№ 4 ' 2013]
Investigation of epiretinal membrane (ERM) is an urgent problem in ophthalmology. There are no safe and effective methods of ERM conservative treatment. The only effective method ERM treatment is its surgical removal. But there is no improvement in morphology and function of macula after operation. Subthreshold micropulse laser therapy may be effective and safe method of recovering macular structure and function after surgical ERM removal.
Anilova L.V., Kuranova V.V., Klimenkova P.O.
HUMIC FORMATIONS AND HUMUS OF CHERNOZEM OF NON-CENTRAL SLOPES OF GENERAL SYRT [№ 6 ' 2009]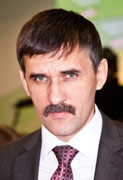 Editor-in-chief
Sergey Aleksandrovich
MIROSHNIKOV