Подача статей





Krivorotov V.V., Kalina A.V., Tretyakov V.D.
METHOD OF ESTIMATION OF COMPETITIVE ABILITY OF MANUFACTURING COMPLEX [№ 8 ' 2013]
The paper reasons the actuality of estimation of competitive ability of economic entities on the level of big integrated structures. The new methodic approach to the estimation of competitive ability of manufacturing complex (MC) is offered. The block system of criteria of MC's competitive ability is considered. The basic directions of practical use of the method of estimation of MC's competitive ability in application to its activity management are outlined.
Krivorotov V.V., Kalina A.V., Pahtusov A.V.
CREATION OF A MOTIVATION MECHANISM TO INCREMENT COMPANY COMPETITIVENESS [№ 13 ' 2011]
Understanding of the company competitiveness with a special accent on necessity of overall development of the constituents of the motivation mechanism that stimulates employees is presented within the frames of resource theory of company competitive advantages formation. The process of formation of the indicated mechanism is demonstrated and the interrelation of its implementation with the increase of a company competitiveness level is commented on.
Krivorotov V.V.
MECHANISM ALGORITHM OF THE OF COMPETITIVENESS INCREASE OF THE ENTERPRISE [№ 8 ' 2006]
In the article the formation algorithm of the competitiveness increase mechanism of the enterprises is offered with the brief consecutive description of stages included in it.
Krivorotov A.F.
ROLE OF THE RUSSIAN "ZNANIE" SOCIETY IN ECONOMIC SOVIET POLICY REALIZATION (1950-1991) [№ 2 ' 2005]
For a 50 year history Russian "Znanie" society along with its regional subsidiaries played an integral part in the state economic policy, in natural-science, scientific-and-engineering, fine art popularization. "Znanie" society leaders, outstanding scientists touched upon the issues of this article between 1997-2002, the time of the 50-th and 55-th anniversary. They also tried to sum the whole society experience up, but the results lacked basis. So, the main objective of the work is to give a profound analysis of the versatile and controversial activity of the organization.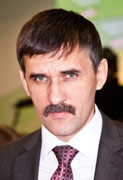 Editor-in-chief
Sergey Aleksandrovich
MIROSHNIKOV