Подача статей





Chernaya L.V., Kovalchuk L.A.
THE CONTENT OF HEAVY METALS IN THE TISSUES OF THE LEECHES, THAT DWELL IN THE SOUTH URAL LAKES [№ 12 ' 2010]
The article carried out the comparative analysis of the accumulation of heavy metals by the predatory and blood-sucking leeches, that dwell in the reservoirs of Ilmen national park and in the adjacent to it territories. Studies showed species specificity in the accumulation of heavy metals by the tissues of leeches.
Kovalchuk M.V., Bagirova V.V., Veselov B.V.
MAGNETIC FIELDS IN COMPLEX TREATMENT OF OSTEOARTHROSIS [№ 5 ' 2003]
The efficiency of impulse magnetic field (IMF) in treatment of osteoarthrosis patients is estimated in the article. From 30 surveyed patients 15 received treatment IMF, 15 - variable magnetic field (VMF). Under the influence of therapy with inclusion IMF at patients positive clinical dynamics was marked, parameters of rheovasogram, сapillaroscopy , conjunctival vascular indexes were authentically improved. VFM renders less expressed effect on microcirculation and regional vascular resistance.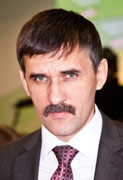 Editor-in-chief
Sergey Aleksandrovich
MIROSHNIKOV