Подача статей





Khvostikov A.S., Kosmynin A.V., Schetinin V.S., Smirnov A.V., Blinkov S.S.
THE CONTROL OF THE SPINDLE ON GAS-STATIC BEARING THE METOD OF VIBRATION ACOUSTIC ISSUE [№ 9 ' 2012]
The technique of the control of position of a spindle on gas-static bearing is stated by a method of vibrating acoustic issue. The description of the experimental stand and the measuring equipment is resulted.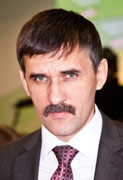 Editor-in-chief
Sergey Aleksandrovich
MIROSHNIKOV