Подача статей





Koshelev D.I., Galautdinov M.F., Vakhmyanina A.A.
THE PRACTICE OF THE APPLICATION OF THE FLASH VISUAL EVOKED POTENTIALS FOR THE VISUAL SYSTEM'S EVALUATION [№ 12 ' 2014]
The practice of the registration of flash visual evoked potentials (VEP) is described. The particular characteristics of VEP of the following groups of patients were analyzed: children and adults with serious dysfunctions of the visual system, children under 3 years old and patients with low vision of one eye. The advantages and disadvantages of this method are indicated. The examples of VEP for each group of patients are shown.
Sirotkina I.V., Fakhretdinova D.A., Koshelev D.I.
VISUAL ACUITY AND THE PARAMETERS OF THE FIXATION ASSOCIATED WITH THE LOSS OF CENTRAL VISION OF DIFFERENT ORIGIN [№ 12 ' 2014]
Visual acuity, size of the preferred retinal location and eye movements were studied in 45 patients with different pathology of either retina or optic nerve. Visual acuity was compared to the maximum resolution of the locus of fixation. Correlations between the eye movements and the level of visual acuity were identified.
Kozik E.S., Koshelev S.I., Kushnarenko E.V., Scheinin B.M., Pravdin V.S., Solosin E.V.
THE CORROSION RESISTANCE OF LOW-CARBON STEEL WITH GALVANIZED STEEL [№ 1 ' 2013]
In the article investigated problems of increase the corrosion resistance low-carbon steel with galvanized steel. Found that for steel specimens diameter of 2–3 mm of the electrodes SSSI 13/55, MP-3, RLA-8 galvanically chrome-plated, nickel and cadmium after hydrogen sulfide native NACE test environment for 96 hours, followed by test notes on flexible bend corrosion resistance remained unchanged.
Koshelev D.I.
MOVEMENTS OF THE LEFT AND RIGHT EYES DURING FIXATION IN EMMETROPIA AND MYOPIA. [№ 12 ' 2012]
There were examined peculiarities of movements of the left and right eyes during monocular fixation in children and adults with emmetropia and myopia. There was revealed higher quality of the right eye movements. In myopia, the differences in the quality of the left and right eyes movements are statistically more significant.
Girfatullina R.R., Koshelev D.I., Akhmadeev R.R.
REACTION OF OCULOMOTOR SYSTEM AT SHORT-TERM VISUAL LOAD AND SEX [№ 6 ' 2009]

Koshelev D.I.
ECOLOGY OF VISUAL ENVIRONMENT AND SENSOMOTOR INDEXES OF VISUAL FUNCTION IN NORM [№ 6 ' 2009]

Kosheleva E.A.
EXPERIENCE OF INTERDEPARTMENTAL ORGANIZATION OF ECOLOGICAL EDUCATION IN BASHKORTOSTAN [№ 6 ' 2009]

Burlakova L.V., Bogatova O.V., Koshelev S.N., Donnik I.M.
COMPLEX SYSTEM OF BIOLOGICAL CONTROL AND APPRAISAL OF CATTLE POPULATION ON THE TERRITORY OF ANTROPOGENIC INFLUENCE [№ 10 ' 2006]
Ecologically justified activity of agricultural products producers is impossible without control and appraisals system of environment subjects, which includes: particularized researched laboratories (at activity profile); cadastre of quality of drinking water, fodder, food raw material, ecological-adaptive abilities of cattle population; ecological mapping, system of electronic cards on the base of long-term researches.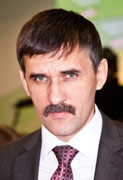 Editor-in-chief
Sergey Aleksandrovich
MIROSHNIKOV