Подача статей





Sergeev A.I., Kornipaeva A.A., Milickij A.I., Kondusov D.V.
INCREASE OF VALIDITY OF DECISION-MAKING AT PARAMETRICAL SYNTHESIS OF FMS [№ 4 ' 2011]
The algorithm of generation and choice of variants of replaceable tasks is developed for a statistical estimation of efficiency and sensitivity FMS. The algorithm of calculation of indicators of efficiency FMS by results of sample of the received variants is offered. It is offered to use results of statistical processing in algorithm of parametrical synthesis FMS.
Serdyuk A.I., Sergeev A.I., Kornipaev M.A., Gilfanova F.F.
STRATEGY AND TACTICS OF TECHNICAL OFFER FORMING OF CREATION OF FLEXIBLE INDUSTRIAL SYSTEMS OF MACHINING PROCESS [№ 1 ' 2006]
The urgency of flexible industrial systems creation problem is revealed in this article. The author's approach to the construction and analysis of computer models is given here too. Consecution and content of earlier projecting stages, finished by technical suggestion working out are regarded. The examples of technical task forming and technical suggestion on flexible industrial systems are given here. Using of cumulative elaborations during studying process at specialists training in the sphere of flexible automation is described in this article.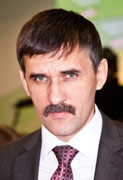 Editor-in-chief
Sergey Aleksandrovich
MIROSHNIKOV