Подача статей





Korneeva О.S., Bozhko О.Yu.
APPLICATION OF ISOMALTULOSESYNTHASE ERWINIA RHAPONTICI FOR TRANSFORMATION OF SACCHAROSE INTO ISOMALTULOSE [№ 4 ' 2009]
The optimum conditions for biosynthesis of isomaltulosesynthase by the bacteria Erwiniа rhapontici was found in the deep cultivation: cultivation temperature 30°С; basic value рН for the nutrient medium 7,5; duration of cultivation totals 54 hrs in the medium with a saccharose content of 10%. homogeneous enzymatic drug with a s protein specific activity of 281,67 Е/mg was obtained through electrophoretic method. The optimum parameters for transformation of saccharose into isomaltulose were identified: dosage – 5 Е/mg of saccharose, saccharose concentration – 10%, transformation time – 3 hrs.
Kanyukov V.N., Korneev G.I., Korneeva E.A.
CLINICAL-MORPHOLOGICAL REASONS OF EPICANTHUS TREATMENT METHODS [№ 12 ' 2007]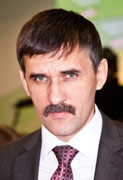 Editor-in-chief
Sergey Aleksandrovich
MIROSHNIKOV