Подача статей





Kondratieva N.V.
FURTHER PROFESSIONAL EDUCATION UNDER CONDITIONS OF INDUSTRIAL SELF-REGULATION [№ 5 ' 2013]
The article presents the analysis of a model of further professional education system development in conditions of industrial self-regulation, which has been realized in Kumertau Branch of Orenburg State University. Certain conditions of research and development potential forming of a higher educational institution in the framework of modern innovation policy are viewed as an outcome of the investigation. A certain interaction device of science, education and production fields through the system of further professional education has been proposed.
Kondratiev E.A.
THE ROLE OF IMITATION IN CONTEMPORARY VISUAL COMMUNICATIONS [№ 9 ' 2011]
The subject of this paper is the characteristics of modern visual communication and the role of the detailed image in the process of information transfer.
Kondratiev E.A.
FRAGMENTARY ART STRUCTURE: AESTHETIC AND INTERDISCIPLINARY APPROACHES TO THE INTERPRETATION [№ 7 ' 2011]
The subject of this article is the review of a number of contemporary methodological approaches to the study of art structures. In particular, the author investigates the role of a constructive and creative role of a part, a fragment, a figurative element, a singular sign within the limits of art unit. This analysis applies primarily to the material of art of the twentieth century, however, retrospection in the field of classical art admits.
Kondratieva O.I.
STATEMENTS OF WITNESS AS EVIDENCE [№ 3 ' 2008]
In this article the author regards disputable questions concerning to statements of witness as one of types of evidences.
Makhrova M.V., Kondratiev Yu.V.
"DIFFICULT" CODE OR CONTRADICTIONS IN LABOUR LEGISLATION [№ 10 ' 2005]
In the article some problems and contradictions of legal regulations of the Labour Code of the Russian Federation and their practical decision are considered. The article is written in 3,5 years after coming into force of the Labour code of the Russian Federation. During action of the Labour Code of the Russian Federation there were the problems connected to application of norms of the labour right. Some categories of workers found themselves " behind a board " of this document though in the maintenance of their labour rights and duties there are many specific features, allowing to talk about necessity of varied approach to legal regulation of labour relations arising at them.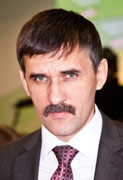 Editor-in-chief
Sergey Aleksandrovich
MIROSHNIKOV