Подача статей





Komarova I.V.
THE INTERACTIVE EDUCATIONAL INTERACTION OF THE TEENAGERS IN THE PROCESS OF TEACHING [№ 2 ' 2012]
The essential characteristics of the teenagers' interactive educational interaction in the process of teaching are observed in the article. Such notions as "interaction", "interactivity", "interaction's ability", "interactive techniques as a complex of interactive forms, methods and means of education" are analysed in order to sum up the existing knowledge on the subject matter.
Komarova, M.I., Kharitonova N.G.
ROLE TECHNOPARKS IN THE REGIONAL ECONOMY [№ 13 ' 2011]
The article describes the competitive advantages of industial park in the region, its functions and structural elements of the scheme to business development, system characteristic of inter-university research and education complex. The necessity of industrial park is reasonable as an instrument of providing of continuous stream of innovations in a regional economy.
Baltina A.M., Komarova E.I.
METHODIC PERFECTION OF CALCULATION OF TAX LOAD INDEXES ON REGIONAL ECONOMY [№ 1 ' 2007]
Different variants of calculation of tax load indexes on regional economy are regarded in this article. The comparison of usage for calculation depending on analysis aim of accrual and paid tax indexes (with accounting and without accounting of cancelled arrears), gross regional product, gross value added, balanced financial result, is conducted in this work.
Komarova M.G.
PECULIARITIES OF PREOPERATIONAL PREPARATION OF PATIENTS WITH GLAUCOMA SIMPLEX ON THE NEUROSIS PHONE OF NEUROSIS-LIKE CONDITION [№ 13 ' 2004]

Isaykin A.V., Isaykina E.J., Komarova N.K.
THE USE OF LASER RADIATION IN TECHNOLOGICAL PROCESSES AT MILK PRODUCTION [№ 7 ' 2003]
The problem is raised in the article of the use of non-polluting laser radiation for stimulation of dairy efficiency and treatment of an udder disease (mastitis).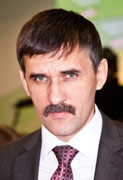 Editor-in-chief
Sergey Aleksandrovich
MIROSHNIKOV