Подача статей





Pishchukhin A.M., Kolotvin A.V.
ABOUT RAISING AND DECISION OF REGIONAL TASK OF WELL-BORING DIFFERENTLY RUNNING AROUND BORING CROWNS [№ 9 ' 2015]
Tense state of drillable breed at affecting her two running around in opposite parties circular and ring boring crowns is of interest. On such method of the boring drilling a positive decision is got about delivery of patent to Russian Federation. It a method decides the problem of removal of twisting moment from a boring column. The estimation of the tense state determines affecting on layer at the boring drilling. As boring crowns have a circular form in the axial plane of mining hole, an area of resilient deformation is not onecoherent. For the decision of this problem it offers to examine equalizations of theory of resiliency in the torus system of coordinates. This raising corresponds to the axisymmetrical task of twisting, set forth A.I. Lur'e. Problem is set the and decides in moving with pointing of the subsequent passing to tensions. A distinctive feature as compared to equalization of Laplace is a presence of additional element. Border terms it is here been equality to the zero of moving to the axis and on the walls of mining hole. The additional decision of task is then conducted in the cylindrical system of coordinates, displaced on the bottom of coalface. Two decisions are compared. The got results allow to draw conclusion about admission of raising and consideration of further tasks of dynamics of the described cooperation in the cylindrical system of coordinates.
Kolotvin A.V., Zinyukhin G.B.
MODEL OF CITY ECOSYSTEM [№ 7 ' 2003]
As a result of research of existing models describing a city the model is developed and offered, describing the city environment as spatially - limited, naturally - technical system with the detailed analysis of subsystems. Quality of an atmosphere of a city is estimated through specific potential of pollution, which is created by a unit of square of separate territory, being a source of emissions of impurity in atmospheric air. Physical sense of which is that it serves a threshold determining expediency of an intensification of pollution of territory.
Zinyukhin G.B., Kolotvin A.V.
TPC AS THREAT TO ORSK ENVIRONMENT [№ 3 ' 2002]
The article analyses the air condition around the city of Orsk, pointing out basic sources of pollution which make up TPC and arranging them according to the degree of danger they present. The authors evaluate the air quality in the city atmosphere through the city danger category (CDC), which shows a certain arbitrary body of air polluted by all the city plants and factories, which has been brought down to the maximum concentration level and to the same value of toxicity.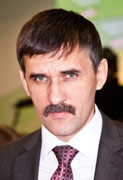 Editor-in-chief
Sergey Aleksandrovich
MIROSHNIKOV