Подача статей





Kolodinа N.F.
METHODOLOGICAL STUDY THE SITUATION OF FOOD SECURITY IN THE REGION IN TERMS OF IMPORT SUBSTITUTION [№ 13 ' 2015]
The article discusses the concept of "food security", the main factors to ensure food security, criteria and evaluation of food security, food security of the country and the region, studied and summarized a number of methods to assess the level of food security; an analysis of the region and the Orenburg region for the production of agricultural products, the level of self-sufficiency in agricultural products on the basis of actual consumption and recommended standards, deviations of the actual dynamics of the recommended level of self-sufficiency and the main types of agricultural production in the Orenburg region, foreign trade in food and raw materials for their production; summarized the achievement of food security of the state and the region.
Kolodina M.V., Rysaev F.B.
ENVIRONMENTAL PRIORITIES IN PUBLIC ADMINISTRATION [№ 10 ' 2015]
The article deals with problems of implementation of administrative regulation in the field of environmental protection. Designated the role of federal and regional target programs aimed at addressing environmental problems. Made suggestions on improving the efficiency of the use of financial funds to provide environmental protection. Because the number of natural disasters and technological accidents is growing, role of administrative regulation in this sphere increase. It should be recognized that the market self-regulation can not provide adequate measures against the dangerous changes in the ecology of the planet. State intervention in this area is inevitable. It should be formulated scientifically based strategy of state regulation, to select the main priorities of the state environmental protection activities. It should include environmental components in the program of international economic cooperation. The world economic crisis is particularly important factor to promote efficiency of environmental measures. State target programs are the financial mechanism of interaction executive authorities in the field of environmental protection. Programs provide systematic, purposeful and effective use of budget funds in this area. It needs to make use of the potential of law enforcement authorities to protect the environment. It should be provided by the interaction of environmental protection and law enforcement.
Ryabinina Z.N., Golovin M.V., Ryabukhina M.V.
MODERN CONDITION OF FLORA COMMON SYRT AND LEGAL FRAMEWORK FOR THE PROTECTION OF CERTAIN SPECIES OF PLANTS [№ 10 ' 2015]
The article presents the results of the study of flora and Common Syrt sovremennyey complex environmental conservation of rare and endangered plants.
Kolodina M.V.
TAXATION OF NATURE MANAGEMENT IN THE RUSSIAN FEDERATION [№ 4 (app.1) ' 2006]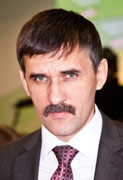 Editor-in-chief
Sergey Aleksandrovich
MIROSHNIKOV