Подача статей





Kolmakova I.D.
SOCIAL AND ECONOMIC FEATURES OF REGIONAL LABOR MARKET [№ 2 ' 2004]
The article considers the condition and social and economic features of labor market on the Cheliabinsk region example. Regional demographic data, employment service data are disclosed; labor market development factors and tendencies are considered. The article gives recommendations on improvements of regional labor market functioning efficiency.
Kolmakova I.D.
DEVELOPMENT OF COLLECTIVE-TREATY REGULATION OF LABOR RELATIONS ON THE MODERN PERIOD OF TIME [№ 7 ' 2003]
The author considers the mechanism of collective-treaty regulation of social-labor relations on federal and regional levels as the most important link in the system of labor management in the modern period of time. The experience of formation and functioning of social partnership system in the country, difficulties and contradictions of its development are described in this article.
Kolmakova I.D.
THE FORMATION OF THE MECHANISM OF LABOUR MANAGEMENT IN REGION [№ 5 ' 2003]
The given article is devoted to consideration of regional features of social - labour relations. These relations are considered by the author as a system, including several parts: bodies of legislative and executive authority in region, a regional labour market, a subsystem of social partnership. The creation of the effective system of labour management is, in author`s opinion the major task of strategic development of regions.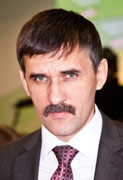 Editor-in-chief
Sergey Aleksandrovich
MIROSHNIKOV