Подача статей





Koksheeva I.M., Nesterov S.V.
TERMS AND CONDITIONS OF SEEDS STORAGE OF REPRESENTATIVES OF THE GENUS RHODODENDRON L. [№ 4 ' 2011]
The article discusses the results of experiments of seed storage of various kinds of rhododendrons in a laboratory room (+18–20 °C), refrigerator (+4 °C), freezer (–18 °C) and in liquid nitrogen (–196 °C). The germination and the period of seeds intergrowth after storage are studied. It turned out that for many species of rhododendrons the best storage conditions for seeds are sealed packaging and temperature –18 °C. Seeds of Rh. luteum should be stored at +4 °C. For seed storage it is possible to use the method of cryopreservation.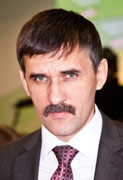 Editor-in-chief
Sergey Aleksandrovich
MIROSHNIKOV