Подача статей





Bogatova O.V., Кichko U.S.
LAKTOAMILOVORIN INFLUENCE ON DIGESTIBILITY FEED NUTRIENTS AND VITAMINS COMPOSITION OF HATCHING EGGS DUCKS [№ 9 ' 2014]
The issue of application of probiotic lactoamilovorin as feed to the main poultry to improve the digestibility of feed nutrients and increase hatching quality of eggs. The application of probiotic repair ducks can improve the digestibility of protein, fat, fiber and to improve the exchange of energy and mineral substances in the body.
Bogatova O.V., Karpova G.V., Кichko U.S., Кlychkova M.V.
BIOLOGICAL AND USEFUL QUALITIES OF DUCKS WHEN FEEDING THEM NHITN LAKTOAMILOVORUS [№ 9 ' 2013]
The usage of probiotic laktoamilovorus as a forage while feeding ducks is investigated. Doses and ways of introduction to the paulry basic ration are determined. They let to increase meat productivitu, incubation gualities of eggs and ducks, reproductive activitu.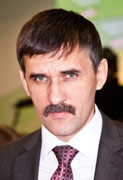 Editor-in-chief
Sergey Aleksandrovich
MIROSHNIKOV