Подача статей





Kazhanova I.G.
ABOUT PERIODICAL SOLUTIONS OF EQUATIONS HOMOGENEOUS SYSTEM IN PARTIAL FIRST DERIVATIVE [№ 10 ' 2006]
The problem of existence of periodical solutions of combined equations homogeneous system in partial first derivative with similar leading part is studied in this article.
Kazhanova T.V., Gataullin P.P., Almetkina L.A., Fedotov A.S.
REACTION 3,4-DIFLAURINANILINE WITH CHLOROACETYLCHLORIDE [№ 5 ' 2003]
The interaction of 3,4-diflaurinaniline with chloroacetylchloride proceeds with formation of products of the subsequent transformation of N-chloroacetyl-3,4-diflaurinaniline and results in N,N-diflaurinephenyl-diketopiperozine, amide of glycolic acids and to a simple ether of the last.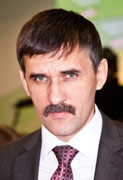 Editor-in-chief
Sergey Aleksandrovich
MIROSHNIKOV