Подача статей





Klevtsov G.V., Valiev R.Z., Botvina L.R., Klevtsova N.A., Semenova I.P., Kashapov M.R., Fesenyuk M.V., Soldatenkov A.P.
KINETICS OF FATIGUE FRACTURE OF TITANIUM IN THE SUBMICROCRYSTALLINE STATE [№ 9 ' 2012]
It is shown that ECAP-conform, forming sub microcrystalline structure, increases the fatigue limit of titanium Grade 4, by increasing the time to fatigue crack nucleation and the slower speed of its spread, as compared to baseline. However, the exponent n in the Paris's equation more than about 2 times. This demonstrates the sensitivity of the material to stresses during operation.
Kashapova L.M.
ROLE OF FAMILY AND SCHOOL IN ETHNOMUSICAL EDUCATION OF CHILDREN [№ 9 ' 2004]
In the article one of aspects of continuous national - regional music education of schoolboys - interaction of family and school is examined. The separate results of experimental researches of the author, the basic ways of realization in conditions of the modernity are submitted in it, methodical recommendations in help to teachers are given.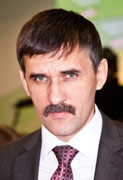 Editor-in-chief
Sergey Aleksandrovich
MIROSHNIKOV