Подача статей





Karabaeva K.D.
LOW AND MORALITY AS FORMS OF UP-TO-DATE SOCIAL CONSCIOUSNESS [№ 7 ' 2014]
In the article the present-day state of law and morality as forms of social consciousness at up-to-date stage of Russian informational community are considered. Problems of both law and morality interrelation and legal protection of morality are considered in more detail.
Karabaeva K.D.
EURASIANS' JUDGMENT AND COMPREHENSION OF THE EUROPEAN THOUGHT HERITAGE [№ 7 ' 2013]
In the article Eurasians' critical judgment and comprehension of the European thought heritage in early XX is considered. One of the most important ideas of the Eurasian policy is denying of the European culture' absoluteness and avoiding of considering Europe as the cultural-history epicenter. There are some reasonable ideas in Eurasians' transactions, which, in the author's opinion are actual for the modern reality.
Karabaeva K.D.
TНE STRATEGY OF DEVELOPMENT OF TНE EVRUSIAN STATE ON BASE OF RUSSIAN ABROAD PHILOSOPHER'S TRANSACTIONS [№ 11 ' 2012]
In the article the Eurasian idea heritage is analysed in the sight of problem choose of Eurasian state image, which is important for modern reality. Russian abroad philosophers were founders of Eurasian policy in the 20th years XX century. In the connection with this fact, the most attention in this article is focused on their transactions, which determine the strategy of development еurasian state.
Karabaeva K.D.
AESTHETIC CONFIGURATION OF PHILOSOPHICAL IDEAS OF EURAZIYSTVO [№ 2 ' 2010]
Crossing the boundary of XX-XXI century, humanity pushed off the problem of aesthetic-ethic element of spiritual being with new efforts. The necessity of meaning revival of philosophical knowledge core — kalokagative triad: Beauty, Good, Truth was originated. The role of Russia- Eurasia as a world centre of harmonious aesthetic-ethic basis of spiritual life in particular presented with trend of Euraziystvo needed new re-comprehension on the modern period, increased. Appealing to ideological heritage of Euraziystvo happened quite actively at last two decade of the end of XX — the beginning of XXI centuries. Today Euraziystvo is regarded by philosophers, historians, sociologists, political scientists, cultural scientists and ethnological scientists. It is important to regard the phenomenon of Euraziystvo at cultural-aesthetic aspect, distinguishing valuable-world outlook contribution of musical figures at formation of Eurasian spiritual potential.
Karabaeva K.D.
EURASIAN PHENOMENON AS A SEARCH OF HARMONY [№ 4 ' 2009]
Eurasian phenomenon as a special event of XX century in Russian philosophical conception is regarded rather wide in this article. The studying of this phenomenon is conducted by philosophers, historians, culturologists, sociologists, political scientists and those people who are not indifferent to Russia-Asia development ways. Meaning different points of view it is possible to regard Eurasian phenomenon in cultural-aesthetic aspect, distinguishing special harmonious force, which is necessary for transformation of imperfect reality, for reaching of fullness of social human being.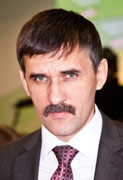 Editor-in-chief
Sergey Aleksandrovich
MIROSHNIKOV