Подача статей





Kadimaliev D.A., Atykjan N.A., Nadezhina O.S.
EFFECT OF FUNGAL AND HORSE-RADISH PEROXIDASES ON LIGNINCARBOHYDRATE COMPLEX OF A BIRCH AND A PINE WOOD [№ 9 ' 2004]
The influence of peroxidase of lignolitic mushroom Panus (Lentinus) tigrinus and a horse-radish on lignocarbohydrate complex of wood of a birch and a pine depend from рН environments and presence of peroxides of hydrogen. Oxidation of an aromatic part of a lignine component of lignocarbohydrate complexes by mushroom peroxidase occured at рН 7,0 at the presence of peroxide of hydrogen. In absence of peroxide, enzyme from a mushroom and a horse-radish caused secondary polymerization of low-molecular fragments the LUK.
Kadimaliev D.A., Revin V.V., Atykjan N.A.
THE INFLUENCE OF POLYMERIC SUBSTRATA ON BIOSYNTHESIS OF ENZYMES OF LYNGOLITIC COMPLEX BY MUSHROOM P.TIGRINUS [№ 5 ' 2003]
The influence of polymeric substrata on process of biosynthesis of enzymes of lyngolitic complex by mushroom P.tigrinus BKM F-3616D at deep cultivation is investigated. It is shown, that entering of celloginine on medium reduces the activity of enzymes of lyngolitic complex. Birch sawdust in concentration of 2 % raise Mn-peroxidatic and glucosooxidatic and in concentration of 5 % laccatic and peroxidatic activity.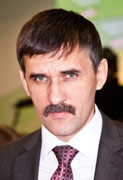 Editor-in-chief
Sergey Aleksandrovich
MIROSHNIKOV