Подача статей





Ishmurzina M.G., Barlybaeva M.Sh., Ishbirdin A.R., Sujundukov I.B.
ADDITIONS TO ADVENTIVE AND SYNANTHROPIC FLORA OF THE SOUTH URAL RESERVE [№ 6 ' 2016]
The process of synanthropization of the flora affected not only protected areas but also areas relating to specially protected, including protected. One of the first steps in the obstacle synanthropization Flor should be their inventory. The article presents information on the findings of 33 plant species identified in the study of commensal flora of the South Ural reserve. Specify habitat, the degree of participation and cenotype described species. Of the identified 33 species 12 refers to the natural flora of the Republic of Bashkortostan, 21 are synanthropic. Among synanthropic lead ruderal species — 36 %, segetal species represented 6 %, adventive species — 15 % of the total complement flora of the reserve types. Thus, the flora of the South Ural reserve were supplemented with 33 new species and 780 species of higher vascular plants, native flora includes over 700 species, adventive — 80.
Baizigitova L.N., Ishbirdin A.R., Yumaguzhin F.G.
ABOUT SOME LIFE STRATEGY MANIFESTATIONS OF SOFT WHEAT (TRITICUM AESTIVUM) OF SARATOVSKAYA 55 SORT [№ 6 ' 2009]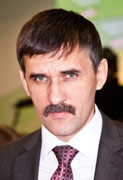 Editor-in-chief
Sergey Aleksandrovich
MIROSHNIKOV