Подача статей





Isakov S.V., Shklyaev V.A.
DETERMINATION OF TOTAL IMPACT OF ANTHROPOGENIC CHANGE SURFACES, ON THE OCCURRENCE OF THE EFFECT OF "URBAN HEAT ISLAND" WITH THE USE OF GEOGRAPHIC INFORMATION SYSTEMS [№ 1 ' 2014]
Investigate an important element of the urban climate — the "urban heat island", considered currently used approaches to its study. A brief overview of the current use of satellite data and processing tools popular geographic information systems in order to meet the elements of microclimate evaluation, in particular, the albedo of the territory. An approach to the definition of albedo areas on satellite images is given.
Ignatov S.D., Isakov A.V.
THE ROLE OF ADVOCATE AT APPEAL AND RECONSIDERATION OF SENTENCES, WHICH DO NOT COME INTO LEGAL FORCE: SOME ASPECTS OF PROCEDURAL POSITION AND APPOINTMENT OF PARTICIPATION [№ 3 ' 2006]
Appointment of advocate participation from the point of view of its procedural position is regarded in this article. The conclusions which are necessary for further perfection of legislation, guaranteeing convict (warranted) the realization of law on defense are formed in this article too.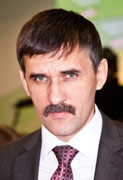 Editor-in-chief
Sergey Aleksandrovich
MIROSHNIKOV