Подача статей





Ilyushechkina N. V.
EKOLOGO-CENOTICHESKAYA FEATURE AND STRUCTURA CENOPOPULATIONS KNAUTIA ARVENSIS (DIPSACACEAE) [№ 4 ' 2010]
The Analysis ecological-phytocenosis of the features natural cenopopulations Knautia arvensis has allowed to install the ranges ecological-go space on moistening, wealth of ground, wealth of ground by nitrogen, acidity of ground and luminosity. The Analysis ontogeny structures has shown that for majority described cenopopulations typical with one top ontogeny spectrum with maximum on person generative of the period.
Ilyushechkina N.V.
CHARACTERISTIC OF COENOPOPULATIONS HELICHRYSUM ARENARIUM (L.) MOENCH. ON THE TERRITORY OF STATE NATURAL RESERVE PRISURIYSKIY REPUBLIC OF CHUVASHIA [№ 10 ' 2009]
The analysis of ecological-coenotical characteristics of Helichrysum arenarium (L.) Moench. allows widening the borders of ecological areal of soil resources with nitrogen and soil acidity. The coefficient of variation of morphological parameters of H. arenarium persons are determined in this article. The presence of maximums on the persons of generative period and full-member character of age specters certifies the optimal conditions of existing.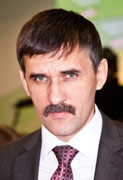 Editor-in-chief
Sergey Aleksandrovich
MIROSHNIKOV