Подача статей





Ilyukhin D.A., Kanyukova Yu.V., Pogodina Ye.G.,
FIRST RESULTS OF PRIMARY OPEN-ANGLE GLAUCOMA TREATMENT BY THE METHOD OF SELECTIVE TRABECULOPLASTY [№ 12 ' 2012]
There was showed the efficiency of selective laser trabeculoplasty in primary open-angle glaucoma treatment. 6 patients (10 eyes) with unstable level of ophthalmotonus were treated by this method. High efficiency of glaucoma treatment by the method of selective trabeculoplasty was proved by the results of visometry, tonometry and perimetry.
Pogodina Ye.G., Ilyukhin D.A.
TWO CLINICAL CASES WITH APPLICATION OF YAG-LASER HYALOIDOTOMY METHODS [№ 12 ' 2012]
On the example of 2 clinical cases there are presented the results of YAG-laser hyaloidotomy methods application. Surgical treatment was carried out on the background of resolving therapy. The examination showed positive dynamics of managing patients as at early so at late postoperative period.
Ilyukh M.P.
BIRDS OF PREY AND OWLS AT AGRO-LANDSCAPES OF CISCAUCASIA [№ 9 ' 2009]
The author examines specific features of biotopic allocation and adaptation of birds of prey and owls subject to settlement of agro-landscapes of Ciscaucasia. The author analyzes allocation, number, nest confinedness and limitative factors for 12 species of birds of prey, nesting at agricultural lands of the region.
Ilyukh M.P.
OWLS IN URBANIZED LANDSCAPES OF CISCAUCASIA [№ 12 ' 2008]
The article reviews occurrence characteristics of four owl species in the cities of Ciscaucasia. Distribution, abundance, breeding ecology, occurrence in winter, behavior, feeding and limiting factors are analyzed for the Long-eared Owl, Eurasian Scops-Owl, Tawny Owl and Barn Owl in atypical for owls urbanized landscapes of the region.
Ilyukh M.P.
PECULIARITIES OF RED-FOOTED FALCON'S ECOLOGY IN TRANSFORMED ECOSYSTEMS OF CISCAUCASIA [№ 1 ' 2008]
Peculiarities of red-footed falcon's ecology connected with transformation of steppe landscapes of Ciscaucasia are regarded in this article. Distribution, size, phenology, nest ecology, effectiveness of reproduction, behavior, feeding, interrelation with other types, migration swarm, pesticides storage, ectoparasites and limiting factors of one of vulnerable species of small falcon in Russia are analyzed in this work.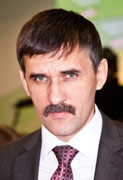 Editor-in-chief
Sergey Aleksandrovich
MIROSHNIKOV