Подача статей





Iconopisceva O.G.
TERRITORIAL DEVELOPMENT OF ORENBURG IN THE CONTEXT OF SYSTEM OF MOVING OF THE CITIES OF THE URALS [№ 5 ' 2015]
Formation of the largest system of moving of the Ural region difficult centuries-old process which cornerstone the certain state interests connected with expansion of borders of the Russian Empire were. The formed strong points of moving in the majority were put at once as the city with certain functions. Therefore, moving in the Urals wasn't natural evolutionary process. Territorial development of city space of Orenburg and other nearby cities connected historically is considered in the context of formation of system of moving and is carried out within the well-known periods of development — preindustrial, industrial and post-industrial. As a result of which, changes happened as in forms of development of the system of moving, and at the territorial level of the cities of components this system. At each stage the major political and economic factors and their influence on planning structure, and nature of territorial development come to light. It is noted that there are certain regularities of spatial development peculiar both to Orenburg, and other cities of the Urals of one genetic category. At each stage of development definitions of the spatial organization of urban areas are given. The revealed general regularities of spatial development are reduced to four main models, everyone from which corresponds to the historical stage. Possibilities of development of the cities and system of moving at the present stage of development are considered. The spatial organization of system of moving of the Urals and in particular in territories of South Ural possesses the high potential of development that is connected with change of borders of the state and border position of the cities. Orenburg can become "a gate to Asia" through which new transcontinental communication streams which will connect Europe, Russia and China will be directed again that can become new incentive to spatial development of territories of Orenburg and their high-quality transformation.
Ikonopisceva O.G.
EVOLUTION TSENTROFORMIRUYUSCHIH INSTITUTIONS — ELEMENTS SOCIAL AND BUSINESS CENTER ORENBURG [№ 5 ' 2014]
Describes the evolution of building typologies forming the city center, as part of the development of social and business system of the city. Set periodicity of various genesis and development of architecture at the regional level. Analyzes the style of modern architecture, reveals the most versatile type of modern commercial real estate. There is a growing real estate typology.
Ikonopistseva O.G.
MODERN STRUCTURE FORMATION FACTORS OF THE URBAN ENVIRONMENT (ORENBURG AS A CASE STUDY) [№ 9 ' 2011]
The article addresses the influence of globalization processes contributing to the transformation of urban structures, and the influence of these modern trends of development on historical urban landscape. It analyzes the functional and planning transformation of the historical social center of Orenburg. It defines also the features of spatial development of the business center as a source of the total transformation of the urban environment.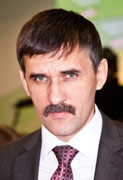 Editor-in-chief
Sergey Aleksandrovich
MIROSHNIKOV