Подача статей





Khavtorin B.P.
AT SOURCES OF PROFESSIONAL MUSICAL CULTURE OF ORENBURG REGION: ALEXANDER ALYABIEV [№ 9 ' 2006]
This article is devoted to the Orenburg period of life and creation work of the well-known Russian composer A. Alyabiev. Living in Orenburg the musician created more than 30 works of different genres, and he was the creator of different chorus and instrumental art collectives. A. Alyabiev became one of the first composers who put the bases of musical professionalism in Orenburg region.
Khavtorin B.P.
EVOLUTION OF MUSICAL CULTURE OF ORENBURG REGION: SOURCES, PROCESSES OF INTEGRATION, PHENOMENON OF DEVELOPMENT [№ 6 ' 2006]
General stages of musical culture development of Orenburg region from its formation till our days are analyzed in this article. At the research the author tries to present musical infrastructure of Orenburg megapolis not only as one of links of combined text of Russian musical culture, but as original phenomenon of general history of Russian music.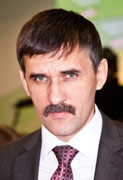 Editor-in-chief
Sergey Aleksandrovich
MIROSHNIKOV