Подача статей





Khabibullina G.R.
LAW NATURE OF LEGISLATIVE (REPRESENTATIVE) STATE POWER BODY OF THE RUSSIAN FEDERATION SUBJECT DECISIONS OF SELF-DISSOLUTION AND NO CONFIDENCE EXPRESSION TO THE HIGHER OFFICIAL OF THE RUSSIAN FEDERATION SUBJECT [№ 5 ' 2006]
Law nature of the higher representative institution of the Russian Federation subject decisions of self-dissolution and no confidence expression to the higher official of the Russian Federation subject is shown in this article and their characteristics and peculiarities are given here too.
Kurmanov M.M., Khabibullina G.R.
THE PROBLEMS OF SUPPORT OF POLITICAL PARTIES' ACTIVITY IN LEGISLATIVE BODY OF FEDERATION SUBJECT: RUSSIAN AND FOREIGN EXPERIENCE [№ 10 ' 2004]
There is an analysis of legal relations, which arise because of participation of political parties in legislative bodies' activity of the Russian Federation subjects' state power, taking into consideration the experience of political parties functioning in Parliaments of foreign countries. The proposals of these legal relations regulation are suggested for using in Constitutions (Charters), laws and others law documents of the Russian Federations subjects.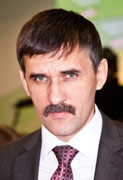 Editor-in-chief
Sergey Aleksandrovich
MIROSHNIKOV